When Lola Simmons and boyfriend Garrett Moore began looking for an apartment in Seattle's Capitol Hill neighborhood, they were hoping to spend around $1,400 on monthly rent. So when the pair found their dream spot for just over $1,000 a month in Seattle's infamously difficult rental market, they knew they'd struck gold.
"I walked in, and after about two minutes, I said, 'Yep, I'll take it,'" says Simmons.
From there, the process was easy, and the couple experienced little surprise throughout their move-in - besides an out-of-commission antique freight elevator on move-in day.
We sat down with Simmons to discuss how she found the perfect rental and how she's made the cozy 500-square-foot space into a home over the past three years - including turning the walk-in closet into a bedroom.
How did you find this place?
Garrett's good friends lived here, and they were moving out. They were looking for someone to take over their lease.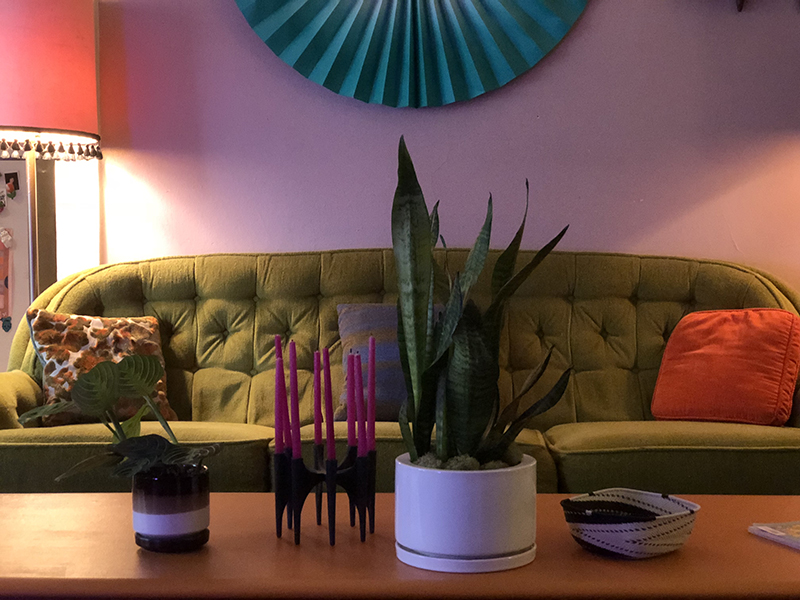 So after the lease was up, you renewed? Did the price change?
Yeah. When we moved in, I think it was $1,050, and when we renewed the lease, it went up to $1,245. Now it's $1,270.
And what about utilities?
They have a set rate included in the rent, which I thought was a unique way to do it. The only thing we pay for is electricity, which is about $40 every three months or so.
Other than it being a great deal, what else drew you to this place?
I've always wanted to live in this building, ever since I moved to Capitol Hill. Everyone's lived in this building. It's kind of special.
I think it's so cool that every apartment in this building is different. Each one has its own character. Even if you go into another one with the same layout, it's still totally different. Some flooring is different or the tile in the kitchen. It's really interesting.
When the old building manager was here, he'd leave the doors unlocked for me so I could go into the empty apartments and look at the different layouts.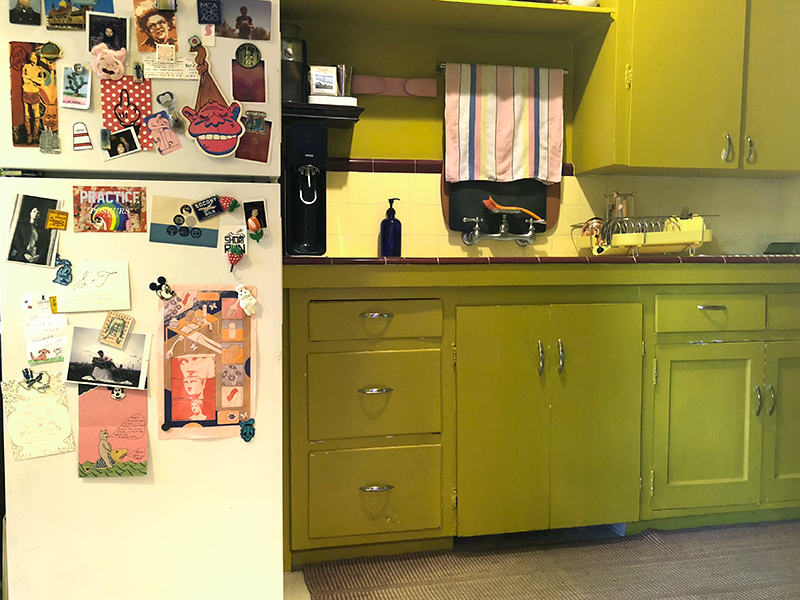 It can be easy for a rental to look basic, but you've totally personalized yours. How did you make your space unique?
I'm drawn to that '70s palette that's really saturated and drab, and also those really bright '80s colors. I've acquired a lot of stuff. I think as much as I'd like to be a minimalist, I like to have stuff.
We've got a lot of plants, and I think tending to those is really fun. Learning about them, making it cozy for the cats - there's really nowhere in here they can't be.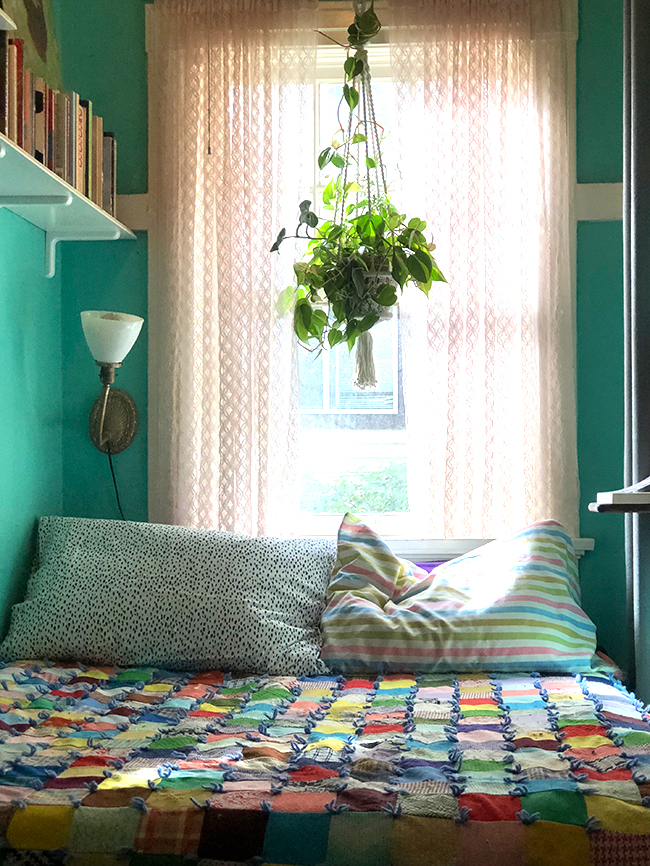 Having a lot of music and books and colors everywhere was really something that I was working toward, and I just really love the junk stores, so I go and buy a bunch of stuff. It scratches the itch, you know?
It's hard for me to understand why people would spend a ridiculous amount of money on stuff. I like to mismatch stuff and make it work. It's not as easy as buying straight from IKEA, but you're not going to find the same stuff in someone else's house. The thrill of the hunt is important to me.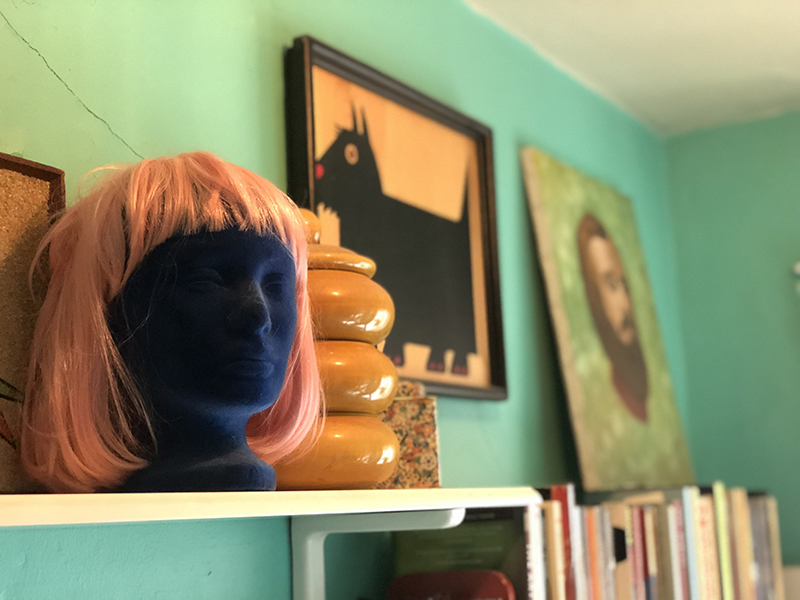 Garrett has a lot of worldly things like instruments and things from his travels, and it definitely goes with my stuff, but it makes it feel more cultured.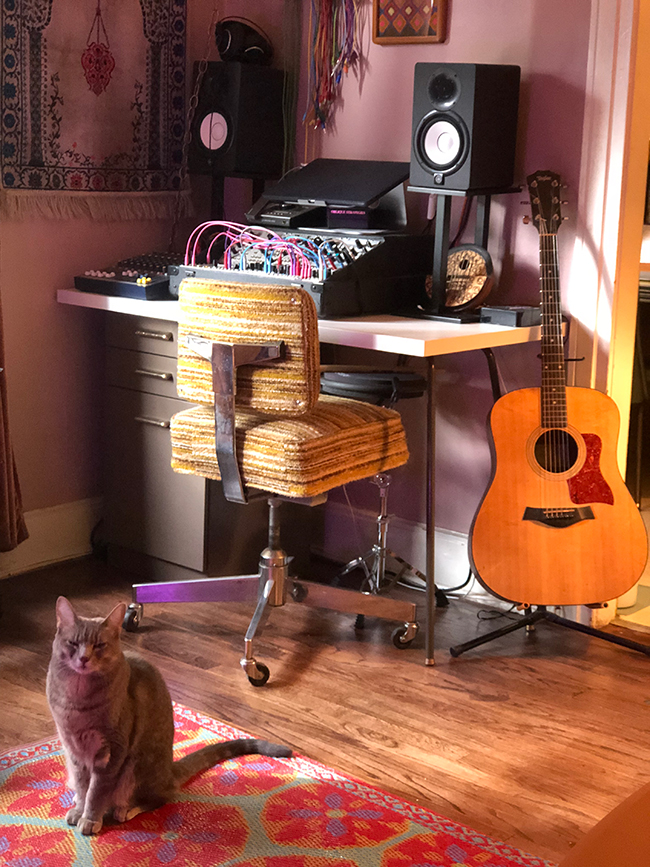 Other than sourcing interesting items, what's been your greatest challenge with your apartment?
There have been a lot.
The outlets. It's an old building - it was built in the early 1900s, and you have all these gadgets today. From our living room outlet, we run a cord into the closet, which is also the bedroom, so we can charge our phones at night.
When we first moved in, the only outlet in the bathroom was the one attached to the light fixture. It was blown out when we first started living here, so I had to blow-dry my hair in the living room.
When we moved in, I had a queen-size bed, and basically it was sandwiched in there with the edges coming up on the sides against the walls. We ended up getting a full-size bed, and it fits perfectly - exactly. I mean, if the bed was a quarter of an inch bigger it wouldn't fit.
And then storage is a huge challenge - making it look like it's not just a bunch of stuff everywhere. We have a lot of under-the-bed storage. You have to get really creative.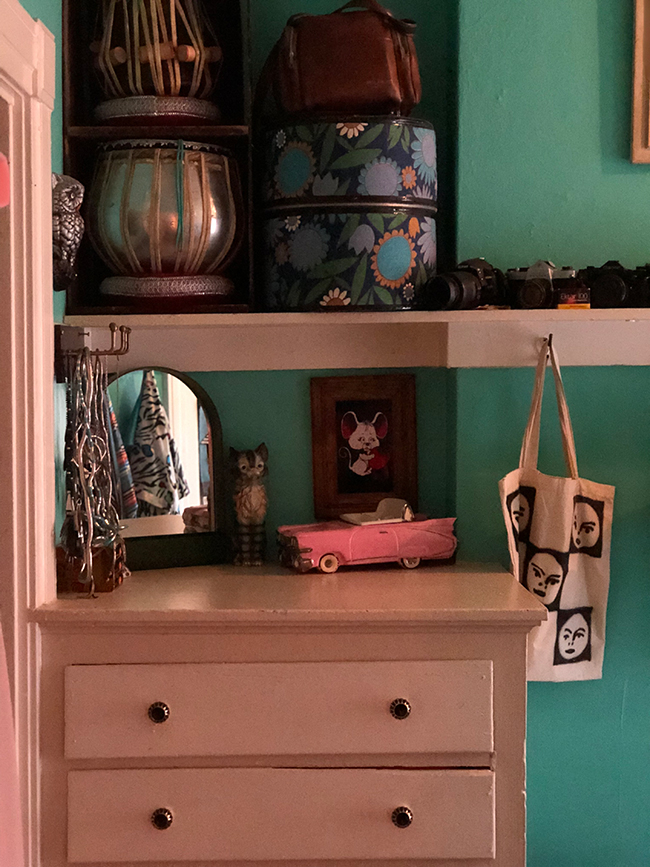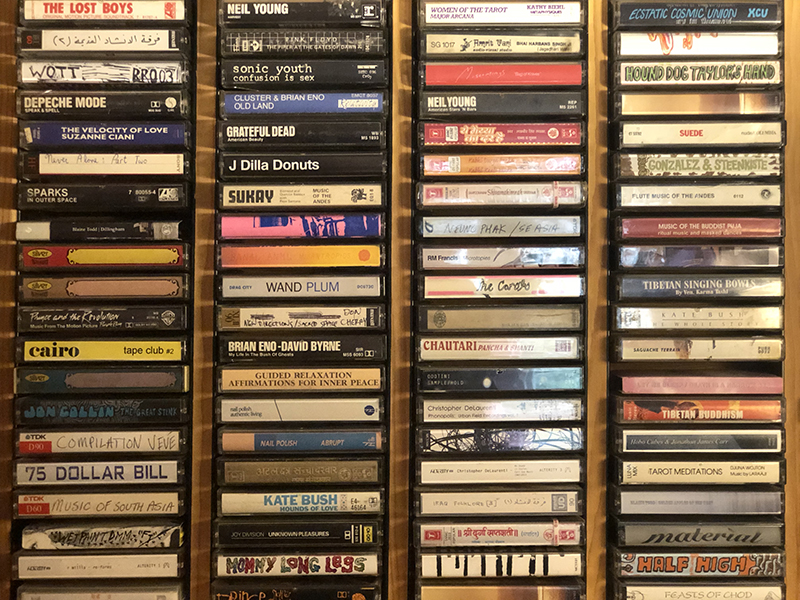 So what do you want out of your next rental?
I really want a bathroom that has a huge clawfoot tub with a lot of natural light. An actual-sized bedroom, to be able to walk on either side of the bed, maybe have a nightstand. And I just want a really big kitchen.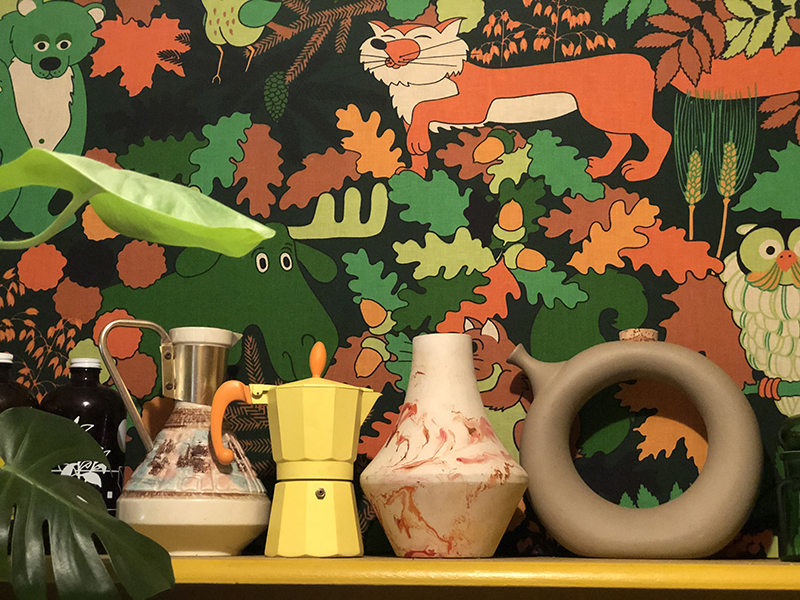 Despite what it lacks in space and outlets, how do you feel about your apartment?
My childhood was all over the place, and we moved around a lot, and I never had that sense of "home." We're entertaining the idea of moving to California because of the seasons - it gets kind of hard when it gets cold and gray.
I'll be really sad to leave this apartment. It's honestly the first place I've lived that I've really, really loved.
Lola's tips for small-space living on a budget
1. Live with a complementary partner
I think if you're going to live in a small space, you have to really have a plan about responsibilities, because they pile up. And he pretty much lets me have my way when it comes to design, which is good.
2. Get creative with storage solutions
A lot of that isn't stuff that comes to me right away, but I experiment by moving stuff around and asking if it's functional - is it in my way? Does it serve the purpose I'm looking for?
It sometimes takes a long time. It's a lot of measuring and returning things, and it's not always easy, but I think it's rewarding. I feel really accomplished when something fits perfectly.
3. Let your space evolve
I'm not very patient whatsoever, but something I've learned is that when you don't have a large budget or you shop the way I do at secondhand stores, you have to be patient. You don't know what they're going to have.
You also have to cycle things out. Our free pile in this building is great - I've gotten so many cool things from that.
4. Look for unique ways of acquiring items
I got a table from the free pile, and the top was really worn down, so I was going to sand it and restain it. But once I sanded it, I realized it was particle board, so I returned all those supplies and got paint. I also added a shelf below it to put my blankets in.
I think repurposing things and making sure they fit with all your other stuff is the trick. There's a bunch of other shelves in here I painted the same color with the rest of the paint. They were different colors, and it looked kind of weird, so I but painted them orange.
You work with what you have. I think it's really fun, because I like DIY projects. Being able to think of what you want and then create it with a really small amount of money is really pleasing to me.
5. Measure the benefits against the costs
Our security deposit was only about $300, so if we did want to repaint at any point, I might consider taking that hit. You want your space to look the way you want, you know? It's a lot of work, though, to paint a whole room, so I'd have to really think about it.
Photos by Callie Little.
Related: